Bajaj is one of the public transport in Jakarta. Is a three wheeler where only two passenger at a time can be transported to a destination. To start the bajaj engine is not by the mean of turning a key. One have to pull a string to start the engine. Multiple pulls might be required if the engine does not start immediately. This sounds as if it is a lawn mover.. hehehe.. The gear transmission is similar to a classic scooter named Vespa. Where the clutch level is pressed and twist the handle to change gear level. There we go, a hybrid machine for tranporting people. I wonder is they can cut grass like a lawn mover.. hmmm.. Below is a few photos of bajaj.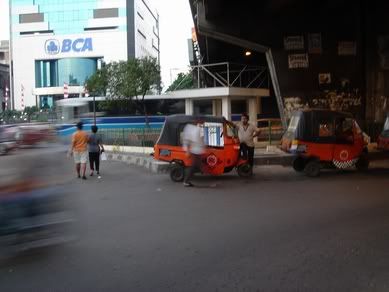 A bajaj driver waiting for a customer. Someone pass by but not interested.
A line of bajaj, waiting for passengers. They have to compete with other public transport. So I guess is not easy to get customer to take bajaj.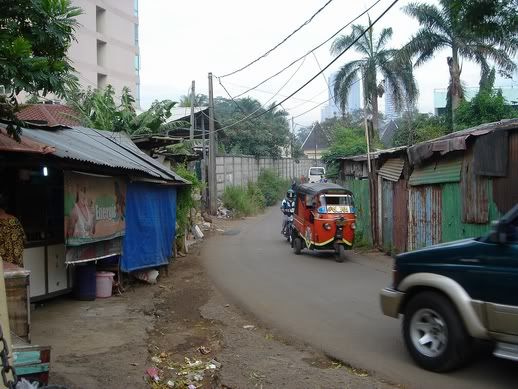 I saw this bajaj was moving to and fro on this street a few times. Carrying students to school. Hmm.. how did I know? I must be standing for quite some time. Aiya what am I doing..