BOMB!! This seems to be an serious issue in Jakarta. The check on vehicles are getting tighter. They will use a mirror to look the bottom of the car. (Wonder if they use that to peek what is under the skirt). Scanning if anything threatening their premises. They even check the booth of the car. Even serious at the hotel entrance, the securities will open the driver door and the passenger door to have a peek in the car. In case they find anything suspicious. On a day I was sitting behind the driver, the security open the door and have a peek, it makes me feel like I am in deep shit. I was frozen at the moment.. hehe.. no pee in my pants.. Even on the main road, they posted security personnel to check on lorries, sometime causing jams.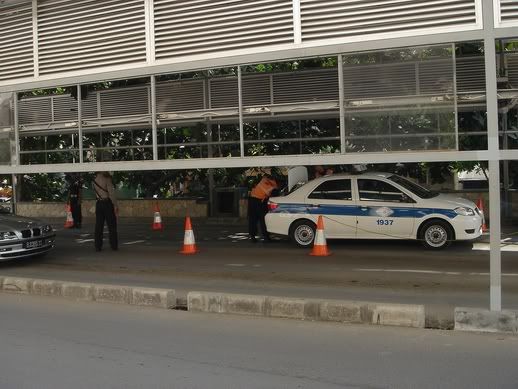 This is taken at Plaze Indonesia, security check on vehicle.. for bombs!!!
One of the weekend me and colleague went to one of the shopping complex and stroll we do. Most of the shop we went in, we came out empty handed. Even if there is sales we still came out 2 combs of bananas. The things there is expensive! Damn! It never occurs to me they have such places. We manage to grab a thing or two, of course something to fill the stomach.. hehehe..
See the picture below, not bad rite. we went in there to find a lot interesting item. Items on sales. Outdate Nike watch on sales and it is having a low price compare to KL. Nobody bought anything. Moving in there is quite fun. They have cinemas that makes you pay RM30 per ppl per show. We manage to get two free t-shirt from Sony Erricson booth.. launching new phone.. can't remember the model.. two free try on Star Wars game for us.. at this juncture we were having real fun. What I want to say is, if we get to go out in a group and they wont mind doing things together, they will make the day a memorable one. You know, that kind of feel is hard to come buy. You see the gang is laughing, enjoying.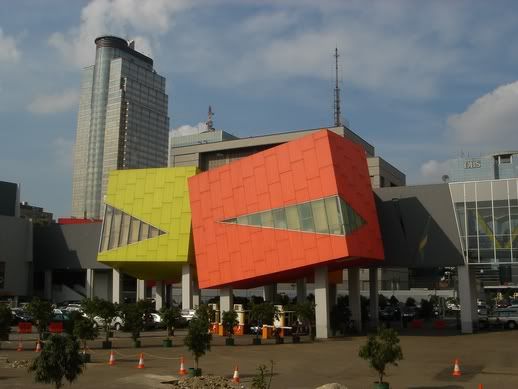 Funny shapes of building and colourful.. found this at Plaza Indonesia.
Oh there is a thing I notice in Jakarta, you get to see houses cramp around, not organised in anyway. Some is tall some is low and many different sizes. One look at it, everyone is building their house to suite their taste. The best part they are neighbours. WOW! Isn't this amazing. Maybe not to you guys.

Taken this from 17th floor, at the horizon is Casablanca Puri condominium.
Seems like I'm writing alot today. You guys dont have to read it. Most of it is just babling. hahaha .. Just look at the photo. That what I am planning to do post photo and short description of the photo. Whether I going to keep my word.. ah maybe not..